Motivated by money? Just how much do players in the top flight earn?, and how profitable is top flight football, rugby, cricket, and more?. Read on to find out how many thousands, if not millions, you could be earning at the top of these major sports.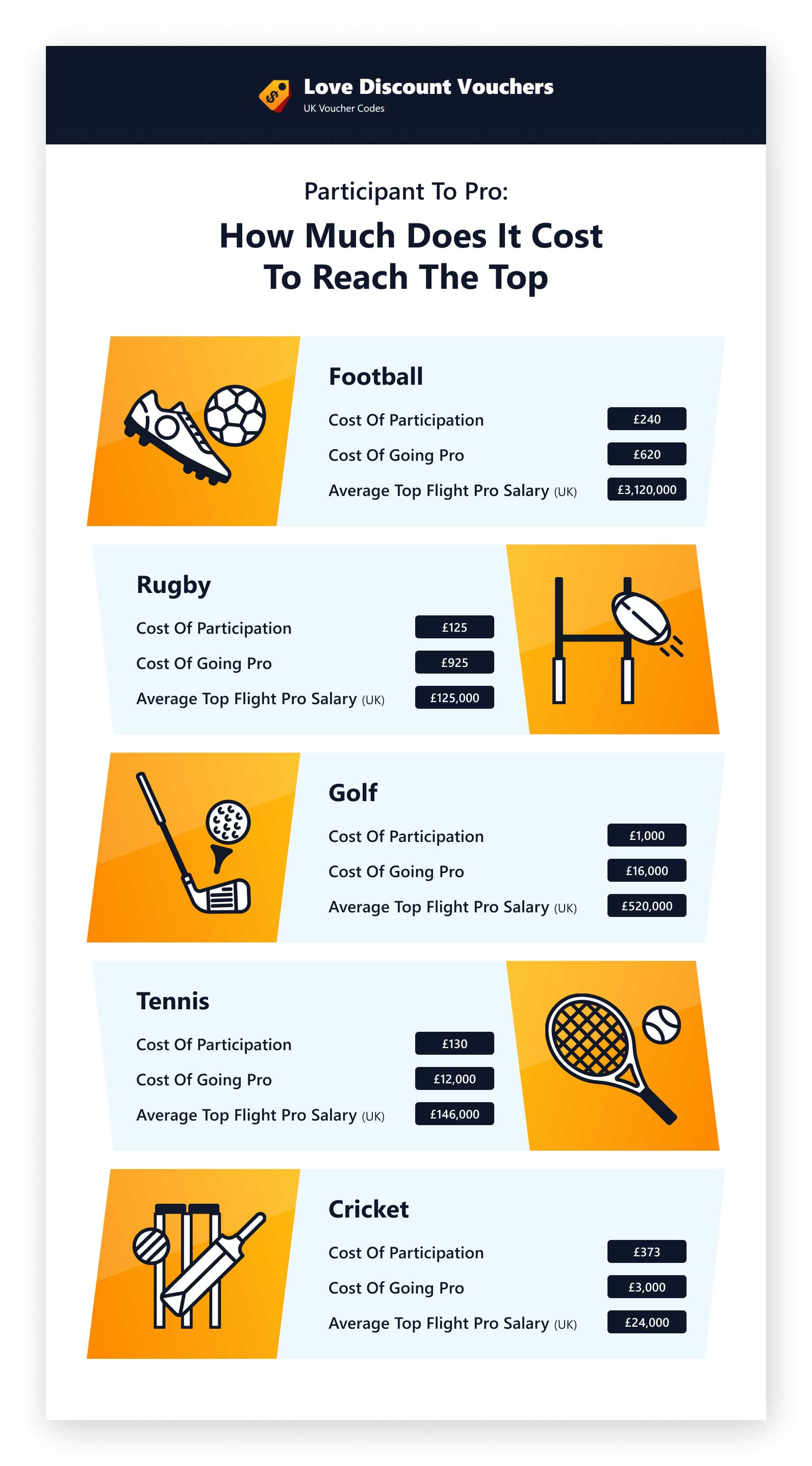 View larger image
From Participant To The Premier League
Unsurprisingly, football is the most profitable sport with the average top flight player taking home a staggering average £3.12 million each year! Being one of the cheaper sports to participate in, football is one of the most accessible sports for the next greats. Not only is it cheap to play, but it's the cheapest to receive professional coaching for, making it by far the most lucrative sport you can play.
According to the FA there are 3.35 million children in the UK aged 5-15 all playing football, hoping to be the next Jude Bellingham or Lucy Bronze. Meaning the competition is high! But if you're the cream of the crop, then you could be making some immense money.
The average cost of getting kitted out to play football is £240. All you need is some boots, a kit, and a football - or maybe some gloves too if you fancy your chances in goal. Make sure you're not overpaying for your boots with the use of a Pro Direct discount code, or if you want to sport the colours of your favourite club, then use a Fanatics promo code.
The average cost of professional coaching in the UK per year is approximately £620, which is by far the cheapest professional coaching on this list. More often than not, if you've got the skills, then you may get scouted by a club who will take the gamble on you. Top players are like investments for the big clubs, and if you can prove you're the next big thing, then coaching shouldn't cost you anything. In 2022 Chelsea had the most profitable academy in the UK, making hundreds of millions on academy player sales.
Unsurprisingly, football tops the earning potential on this list, with top flight players earning an average annual salary of £3.12 million. An absolutely eye watering figure, however it's hardly surprising considering its mass appeal and popularity, and the amount of investment into the sport at top levels.
Evolving From Rookie All The Way To The Rugby League
Rugby is the cheapest sport to participate in, costing an average of only £125. The main costs to play rugby are for the equipment, which you can make even cheaper by using a Sports Direct discount code. So if you're after a fierce battle of strength and skill and some high-octane action, then Rugby could be the sport for you. Beyond the crunching tackles and intense action, rugby fosters camaraderie among teammates, forming a bond that extends far beyond the pitch. But, if you're not only playing for passion, but playing to be the best, then professional coaching could set you back £925 per year.
For aspiring rugby players, ambitiously aiming to reach the top, coaching can be costly. There are expenses associated with coaching, fitness and strength training, nutrition, and equipment. Private coaching sessions can be more expensive, receiving specialised training programs, especially if you're trying to hone and grow specific skills. If you're deadly serious about going pro, then you'll need access to top-notch facilities, including gyms and rugby pitches, which may come with membership fees or rental costs. All of this considered, if you make it all the way to England's top flight, then you could land yourself a handsome salary.
The average top flight player earns an annual salary of £125,000. By no means is that a number to scoff at, but it does pale in comparison to the potential earnings of footballers, golf players, falling just shy of tennis players too. This is all due to the amount of money in the sport, determined by the number of people watching. For scale, the Japan 2019 rugby world cup final drew 857 million viewers, compared to a staggering 1.5 billion who watched the men's football world cup final.
Playing For Fun, Or Playing On The PGA Tour
We've all heard about Tiger Woods' supposed 10,000 hours required to master a skill and become a pro, but just how costly is that? And how much will it cost if you just simply want to pick up golf as a hobby? What Tiger Woods may have missed out from that statement, is the many hours you'll have to work to earn the money to simply learn and compete in the sport.
Golf is by far the most expensive sport to simply participate in, largely down the the costs of the equipment and the costs of course hire or membership. The average annual cost of simply participating in golf is an eye watering £1,000! This is because what is considered a 'cheap' golf club set will cost you somewhere in the region of £200. Whereas, more premium golf club sets for those who take the sport a little bit more seriously can cost up to around £2,500, possibly more. According to Golf Magic, the average cost of a round of golf in the UK for non-members will cost from £84 to £108. Considering these figures, we can quite easily understand how golf has earned its place on this list as the most expensive sport to participate in. If you're looking to try and cut this cost, don't be silly and pay on par with everyone else, save yourself a few quid with an American Golf promo code.
Not only is the amount of money required to participate expensive, but the cost of coaching is staggering too. The average amount you'll spend per year on pro coaching is £16,000, the most expensive coaching on this list. Perhaps you're spotting a trend here. Private coaching sessions, in particular, offer personalised attention and tailored instruction, but they come with a premium price tag. Additionally, golf courses and practice facilities often require fees for use, further adding to the expenses. Not only this, but if you're serious about going pro, then you're going to need more premium equipment, with players often investing in gear that complements their instruction. Plus, the time-intensive nature of golf coaching means that instructors have limited availability, potentially leading to higher demand and prices. So if you're looking to be the next Nelly Korda or Jon Rahm then you better have some deep pockets!
But let's say you do make it to the very top, how much could you be earning per year? Not only is golf one of the more expensive sports to play and go pro in, but it's one of the more financially rewarding sports too, should you make it to the top. The average top golfer earns £520,000 per year! This is just an average figure, and if you have a bad season you may earn less, or a good one could earn you more. It all depends on the competitions you play in, and the amount of prize money you can earn. As with all sports, sponsorships can help boost a player's salary too. In the 2018-19 PGA Tour, Tiger Woods earned $3.158 million in prize money, but a further $42 million in sponsorship deals with companies like Nike, Monster, Bridgestone, and others. Arguably Tiger Woods is the biggest name in golf, therefore commanding the largest sponsorship fees. However, it just goes to show that if you're savvy, being a top sportsman or sportswoman can bring you opportunities outside of just the sport itself.
Winning Your Way To Wimbledon
Tennis, in our findings, is the second cheapest sport to participate in, costing an average of £130 for annual participation. Tennis is a relatively affordable sport to get into, partly because you can find tennis courts in multiple settings, such as public parks, community courts, and these are often available for hire for relatively little cost. Unlike some of the sports on this list, that require extensive equipment to be able to play, basic tennis equipment is simply a racket and balls, which can be cheap if you shop about, look for budget options, and are sensible with your spending. If you're looking to buy tennis equipment, then save yourself some money with a Decathlon discount code, to help keep the costs of participating low whilst starting out.
Similar to golf, the cost of professional coaching for tennis is highly expensive. Tennis is the second most expensive sport to go pro in on this list. Professional tennis coaching comes with a high price tag for several reasons. Firstly, professional tennis coaches are often former professional players or highly experienced individuals with a deep understanding of the game, and their expertise commands a premium fee. Private coaching sessions provide one-on-one personalised instruction, which tends to be more expensive due to the effort taken to plan and tailor these sessions. Private coaching often includes analysing performance and providing detailed feedback, all of which helps to justify the high costs they command. It's actually been found that private tennis coaching in the UK is cheaper in the Middle east, so if you're looking to be the next Andy Murray or Emma Raducanu, then you may look to relocate to help save yourself a little money.
Despite the high price of annual coaching costing £12,000, if you are to make it to the top, competing in grand slam tournaments, then tennis can be a quite profitable sport. The average top flight tennis player competing in grand slam competitions can expect to earn an average salary of £146,000. The earnings for a top tennis player is largely a result of how far they can go in competitions, as prize money increases with each round they progress. Professional tennis players can earn money from various sources, including tournament prize money, sponsorships, endorsements, and appearance fees. Unlike other sports, tennis is an individual sport, where everyone is in it for themselves, therefore making it incredibly competitive and hard to reach the top. Lower-ranked players may struggle with significant expenses related to training, travel, and coaching, making it a challenging endeavour to break into the upper echelons of the sport.
Aspiring To Reach The Ashes
Cricket is the least profitable sport on this list, and perhaps the one that offers the least return on your investment. However, if you do fancy taking up cricket as a hobby then you'll find the annual cost of playing the sport is somewhere in the mid-range of costs on this list, costing an average of £373 per year. The cost of playing cricket can vary depending on a few factors. At the most basic level, cricket can be reasonably priced, only needing a cricket bat, ball, and a relatively open space to play. However, if you're a little bit more serious about playing the sport then quality cricket equipment like bats, pads, helmets, and gloves, can be quite costly. Also contributing to this cost is the price of joining a club or league, which often involves membership fees and uniform expenses.
If you are however looking to go a little further than just playing for fun, and are considering a professional career as a cricket player, then you can expect to pay an average of £3,000 per year to achieve this dream. This is the third most expensive cost of going pro on this list and it's easy to understand why. Not only do you have the expenses of more premium and high quality equipment, but there are lots of costs associated with private coaching sessions and access to top-notch training facilities often require a significant financial outlay.
Nevertheless there is still some money to be made in cricket, but it pales in comparison to the other sports on this list, with the average top flight pro player earning an approximate £24,000 per year. There is generally less money within cricket due to its lack of worldwide appeal, instead having particular countries of interest in the sport such as Pakistan, India, England, and more. The lack of universal appeal for the sport also damages viewership figures, sponsorship money, and more. Having said this, cricket is still an extremely popular and profitable sport if you can climb your way to the very top, but the riches of the sport don't quite compare to the others on this list.
Conclusion
To conclude, there are a variety of costs associated with taking up a sport, but if you enjoy it and have a skill for it, then it most cases the costs of professional coaching can be worth it when considering the financial rewards if you're one of the lucky ones to make it to the top flight of the sport.
If you're looking for a cheap and easily accessible sport to play, then the best options are football, rugby, and tennis. However, if you're looking to make the big bucks and have the drive to go pro, then the best sports to pursue are football, golf, and tennis.
If you are looking to kick start your participation in any of these sports, make sure you're not overpaying, by using one of our many Sports, Fitness & Outdoors Discount Codes.